Introduction
The objective of the Piedmont Railroad Museum & Library, Inc. is the preservation of the rich railroad history of the Central and Coastal Piedmont Regions of the State of North Carolina.
Read about our plans to Preserve the Past, Educate the Present, and Build the Future, and the benefits of our Museum.

The site will be named the Piedmont Model Railroad Park

The Museum will provide a family-oriented attraction where visitors can leisurely explore the inside museum exhibits and displays, then ride a narrow gauge train, and enjoy the outdoor play and picnic areas. These play and picnic areas will include covered picnic tables with grills, child-sized buildings with a Thomas the Tank Engine theme, vending machines and restrooms. The Museum will become "THE" attraction for the Triangle area of North Carolina.
Preserving the Past
Preserve and display historical railroad items, including:
Motive power, freight and passenger cars, and other rolling stock
Railroad-related artifacts and antiques
Focus on the railroads that served the Piedmont including:
Original Norfolk Southern
Seaboard Air Line
Southern
Durham and Southern
Educating the Present
Railroad-related interactive and educational displays:
Locomotive Cab Simulator
Constantly Changing Displays
How Locomotives Operate
Dynamic displays focused on artifacts, historic documents and special collections
Library with search materials and search capabilities.

Meeting space to allow community presentations on railroad safety (Operation Lifesaver) and Boy Scout Merit Badge classes.
Building the Future
Attract younger people to the hobby of model railroading by providing a forum for building scale model railroad displays:
HO and N Scale Model Train Layouts
LGB Model Train Layout (outdoors)
Narrow Gauge Riding Trains (outdoors)
Visiting Layouts
Provide space to teach and share information on model railroading.
Classes on model railroading, detailing, painting, and maintenance
Classes on layout construction, scenery, trackwork, and wiring.
Benefits
of
The Piedmont Model Railroad Park
Provides attractions and activities for families
Expand participation in the hobby of model railroading
Preserves the history of railroads in the Piedmont region
Provides educational programs for area schools
Create a uniqueTriangle tourist attraction
Provides jobs for museum staff and pays taxes
Participate in Nature Conservancy (N.C. Land Trust)
Provide support to other Non-Profit organizations (future)
What Makes the Piedmont Model Railroad Park
Different?
The outdoor family activities, including the riding train and picnic areas, plus the model railroads and library differentiate the PRM&L from other "railroad museums"
Site Requirements
Objectives:
Location: convenient, easy to get to, good roads.
Size: 10 to 100+acres
Condition: natural and wooded; farmland acceptable
Terrain: Reasonably flat; moderate slopes acceptable
The site will be primarily left natural, and be developed only to the extent necessary to accommodate the buildings, parking areas and access roads, the narrow gauge train track, walking trails, and the play and picnic areas. We will strive to maintain 70% of the land in it's natural state for all our visitors to enjoy.

Future consideration will be given to construct and operate 7-1/2" scale riding trains, commonly known as "Live-Steam" as well as a fully operational 2 foot narrow gauge train.

Farming plots will be included in the overall operation.
Building Requirements
In order of construction, we would build:
Train Shed: Narrow Gauge prototype locomotive and passenger car storage/maintenance; 2 floors, main floor for smaller railroad exhibits, 2nd floor will house the museum display workshop and artifact storage.

Train Stations within the recreational areas to support administrative supervision and maintenance over the activity area.

Main Building: 87,500 SF model train layouts (HO and N scales), visiting layouts, interactive exhibits, library, meeting space with kitchenette, gift store, admin office space and restrooms.

Future expansion: building with be situated on site such that space exists to construct a second train shed to the right of the main museum building, for additional train exhibits or for inclusion of other transportation modes (such as automobiles and/or motorcycles)
Park Funding Priority
In order of importance:
Land purchase with or without buildings
Develop displays and train layouts
Construct "Live Steam" system
Construction of a 32000 SF Train Shed Building
Build/purchase narrow gauge train
Construct recreational area(s)
Construct main museum building
Funding
Initially seeking $1 Million in funding. Projected budgets will be:
$400,000 — Land and building – possibly a small farm with approximately 10 acres

$200,000 — Train Shed – Live Steam storage and repair facility

$200,000 — Site work – road and parking lot creation

$ 50,000 — Building improvements to original site building

$ 75,000 — "Live Steam" equipment and rail laying

$ 75,000 — 2 year operating budget
For a corporate donor the PRM&L would work with the corporation's accounting department to ensure controlled and timely disbursements of funds, with monthly or quarterly reviews, to ensure correct and proper use of the donor's funds.

The Museum is projected to open its door for business approximately 3 months after site purchase and issue of all necessary permits.
Proposed Site Plan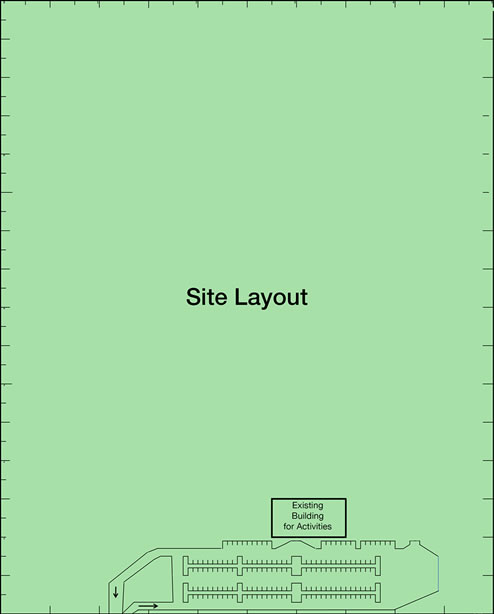 All buildings, activity areas and track location are approximate. Locations will dependent on land topography and lot boundaries.
Site acquisition with existing building

Build Interactive N, HO, and O Scale Layouts

Start Garden Layout
Interactive Model Train Layouts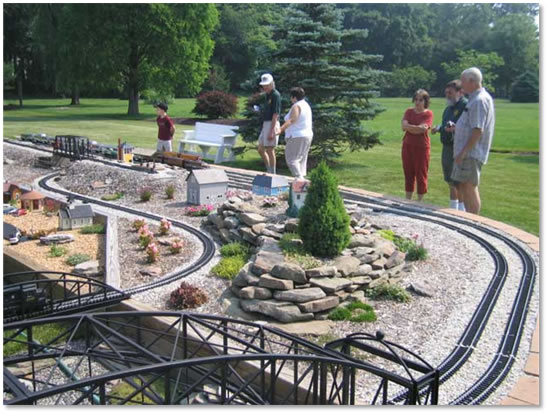 Garden Layout

O Scale

HO Scale

N Scale
Enjoy a leisurely stroll throughout the facility enjoying the various scale layouts we will have. Interactive action scenes which you can operate will be located throughout the layout exhibits
Proposed Site Plan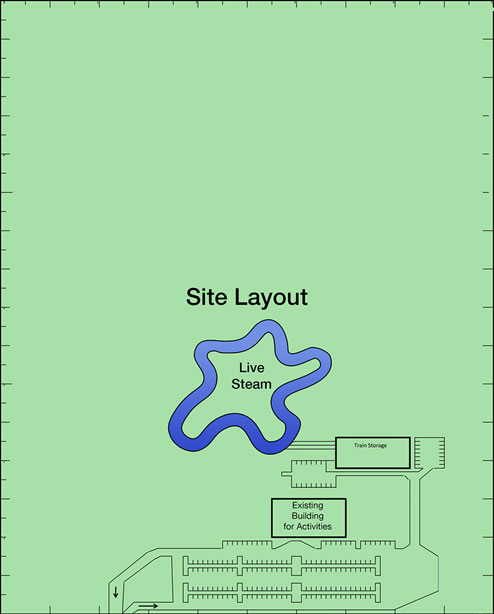 Live Steam Train Storage
Interactive Model Train Layouts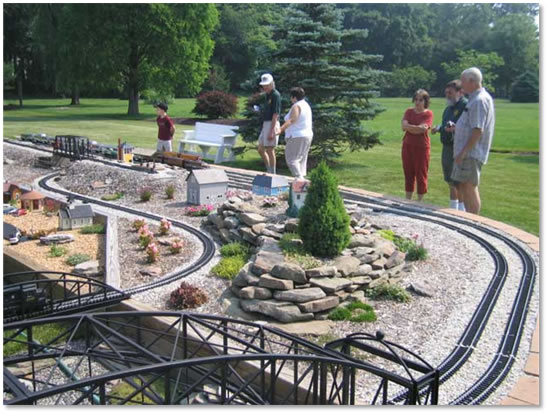 Garden Layout

O Scale

HO Scale

N Scale
Enjoy a leisurely stroll throughout the facility enjoying the various scale layouts we will have. Interactive action scenes which you can operate will be located throughout the layout exhibits
Live Steam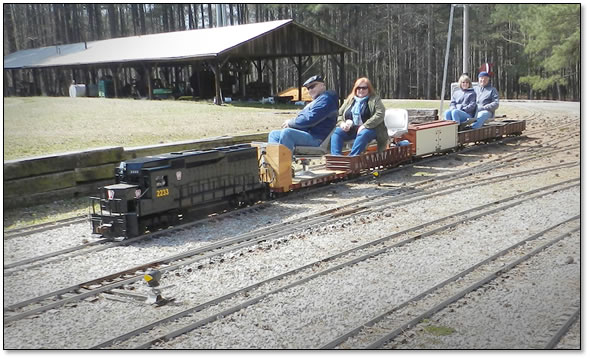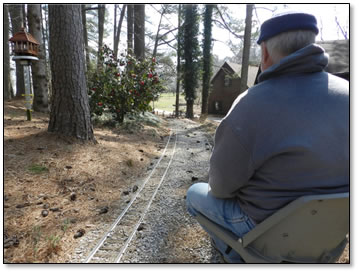 Visit Take a Ride

Take a ride on the "Live Steam" 7-1/2" train network through our woods, villages and fields.
Proposed Site Plan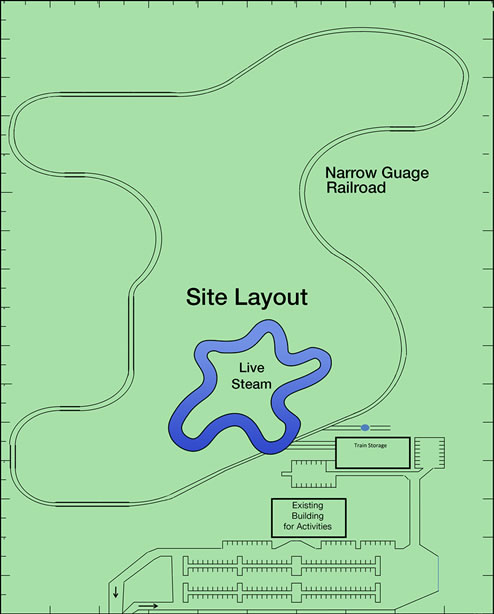 Narrow Gauge Railroad
Narrow Gauge Railroad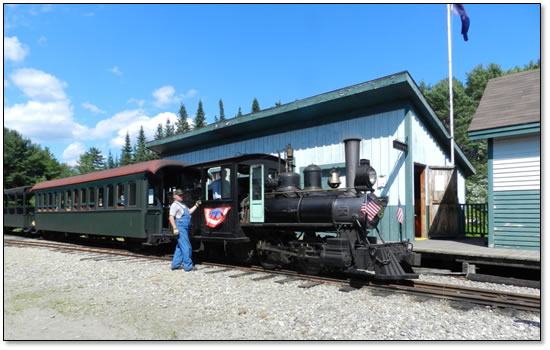 Photo: The Wiscasset, Waterville & Farmington Railway Museum
Alna, Maine
Ride inside or outside
Enjoy a ride inside our coach or ride in our open top passenger cars.  See the park in comfort. See the creation of our recreational sites, picnic areas and various interlocking trails throughout our park. A Narrow Gauge Railroad, similar to the WW&F above, in the Piedmont Model Railroad Park is dependent on obtaining the necessary funding and land.
Proposed Site Plan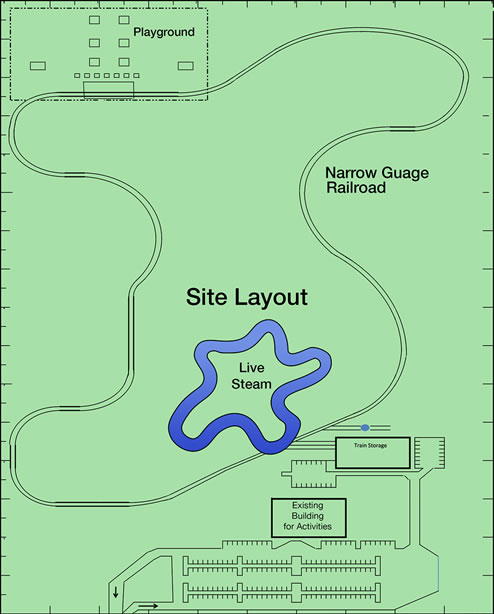 Recreation Area #1
Picnic Shelters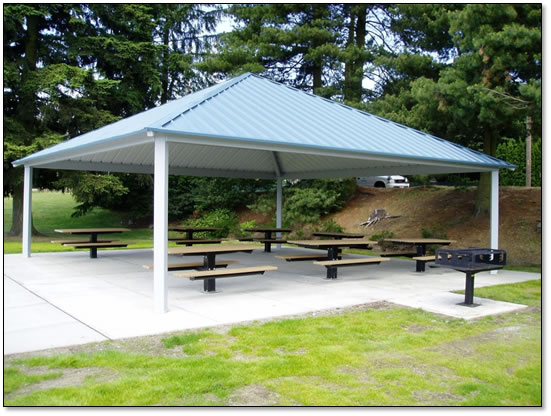 Picnic Shelters will be available in various sizes for
Family Gatherings

Birthday Parties

Reunions

Corporate Events
Proposed Site Plan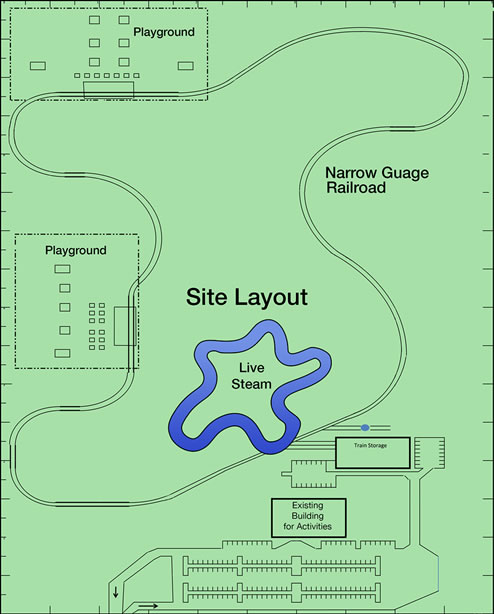 Additional Recreation Area
Children's Village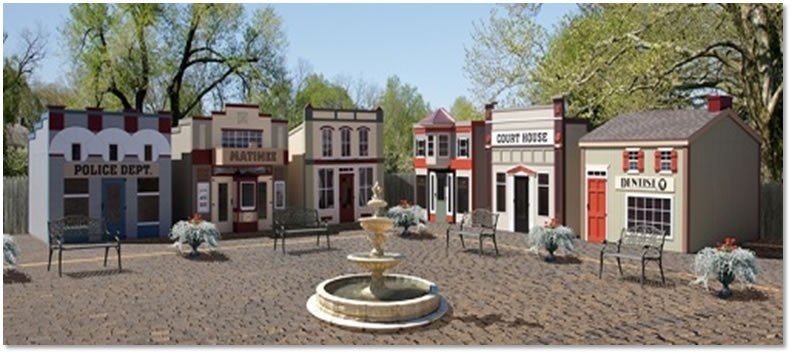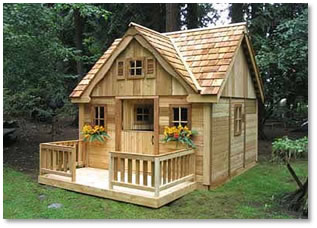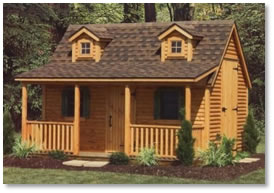 Examples of Play Village structures
Proposed Site Plan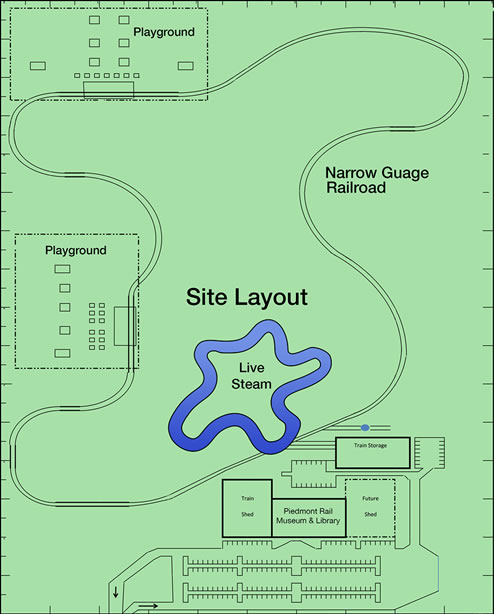 Museum and Train Shed
Contributions
Now you can help the Piedmont Railroad Museum and Library to become a reality!

Support in creating the "Piedmont Model Railroad Park"

Donation to support the purchase of land

Provide introductions to prospective contributors

Copyright © 2009 – 2018 Piedmont Railroad Museum & Library, Inc. All rights reserved.
The various logos and heralds shown here are the property of their respective organizations.
The artwork features rail fonts by Benin Coifman, www.RailFonts.com.

Last updated: Friday, August 3, 2018

Piedmont Railroad Museum & Library
Webmaster: John M Wallis (Email)